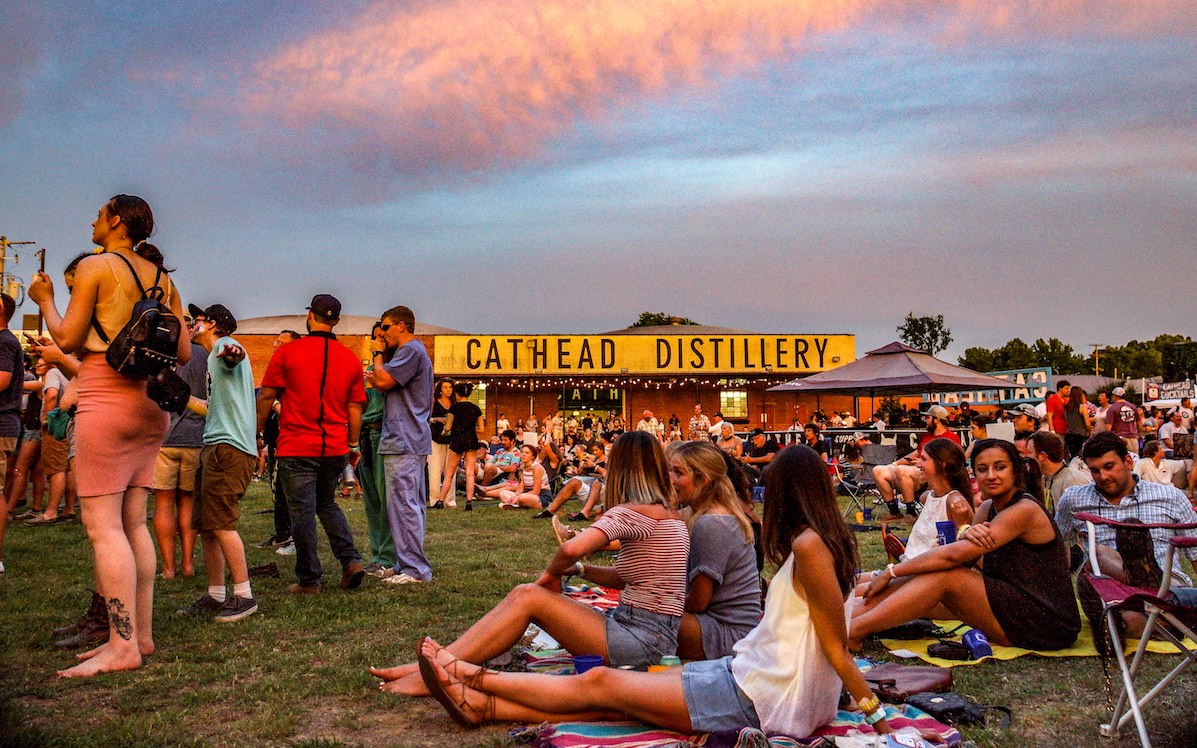 Cathead Distillery: Contributing to Arts Community is Part of the Mission
When Cathead Distillery opened its doors nearly a decade ago, its mission was two-fold: to create a unique line of inspired fine spirits and contribute meaningfully to the arts community in Mississippi.
Cathead Jam brings thousands of people to the distillery each year. (All photos courtesy Cathead Distillery.)
As festival-goers prepare to converge on downtown Jackson for the distillery's annual Cathead Jam on May 31 and June 1, organizers are working feverishly to ensure they remain true to that goal of building and support the arts community in central Mississippi.
"The Cathead Distillery founders have a big passion for the city of Jackson, and they want to be a part of the growth here, especially in the downtown area," says marketing manager Taylor Leatherwood. "The goal of the distillery and the events, especially Cathead Jam, is to give people a sense of community, fun and a unique experience you can't find anywhere else. We've also noticed that we provide a great attraction for many out-of-town guests."
The company donates a portion of its proceeds to various nonprofit organizations that give back to the blues and the arts community. That includes sponsoring onsite and offsite events that are directly tied to live music. Those partners include Yoknapatawpha Arts Council, Southern Foodways Alliance, Music Makers Relief Foundation, North Mississippi Hill Country Picnic, Magic City Blues Society and New Orleans Musicians Assistance Foundation.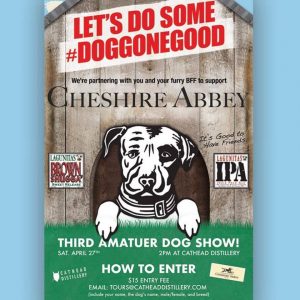 Cathead has an annual dog show that benefits a local animal shelter.
Leatherwood says that investment is enhanced by the fact that founders Austin Evans and Richard Patrick have made it a priority to keep the company family-owned and operated.
"They are here every day, heavily involved in all aspects of the company and care very deeply about the events and public hours, as they know the importance and relevance it has on the overall view of the brand," he says. "When people can come in and sense that, while also enjoying themselves, it definitely creates and maintains loyalty from the consumer."
An annual amateur dog show, which benefits Cheshire Abbey, a nonprofit animal rescue organization, also supports the company's philanthropic and community-focused mission. And bi-weekly yoga classes on the floor of the distillery, occasionally free of charge, come with a tour and tasting of some of their products. Of course there's no shortage of live music and crawfish boils, too, all at the distillery.
The annual Jam, in its fourth year, is a big deal for the company because it gives people another reason to see the distillery for themselves and the team behind the brand, Leatherwood says.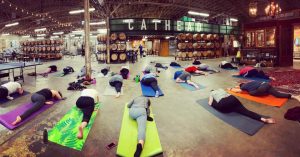 Along with distillery tours, a beer bar and pub games, Cathead offers events like yoga.
Judging by attendance, festival-goers enjoy being able to get up close and personal with Cathead. The event has grown each year, along with its following, says Alex Coats, marketing director for co-organizer Ardenland. This year, 4,000 attendees are expected each day.
"We have a lot of customers who have been coming since the first Cathead Jam," Coats says. "We have gained a strong following of repeat attendees that will come no matter who's playing. Last year, attendees came from throughout the southeast, and as far as California and Montana."
Partnering with Ardenland "was a no-brainer—a match made in music heaven," Leatherwood says. "Arden Barnett and his team do such great work for the community here and statewide, and we love their energy and mission."
In addition to live music, the family-friendly fest features games and an open space for children, as well as crawfish boils, amateur dog shows and ping-pong tournaments.
The musical line-up includes The Revivalists, Umphrey's McGee, Greensky Bluegrass, Anderson East, The Wailers, Rayland Baxter, Aaron Lee Tasjan and Young Valley.
Festival-goers can purchase single day, weekend or VIP passes. For more information, visit http://catheadjam.com/.
Monitoring Your Trademarks
Posted on: 09/01/2021
We have assisted hundreds of clients in navigating the nuances of federal and state trademark registration and protection. One of the most common misunderstandings about trademarks is a registrant's obligations after they have registered a trademark with the United States Patent and Trademark Office.