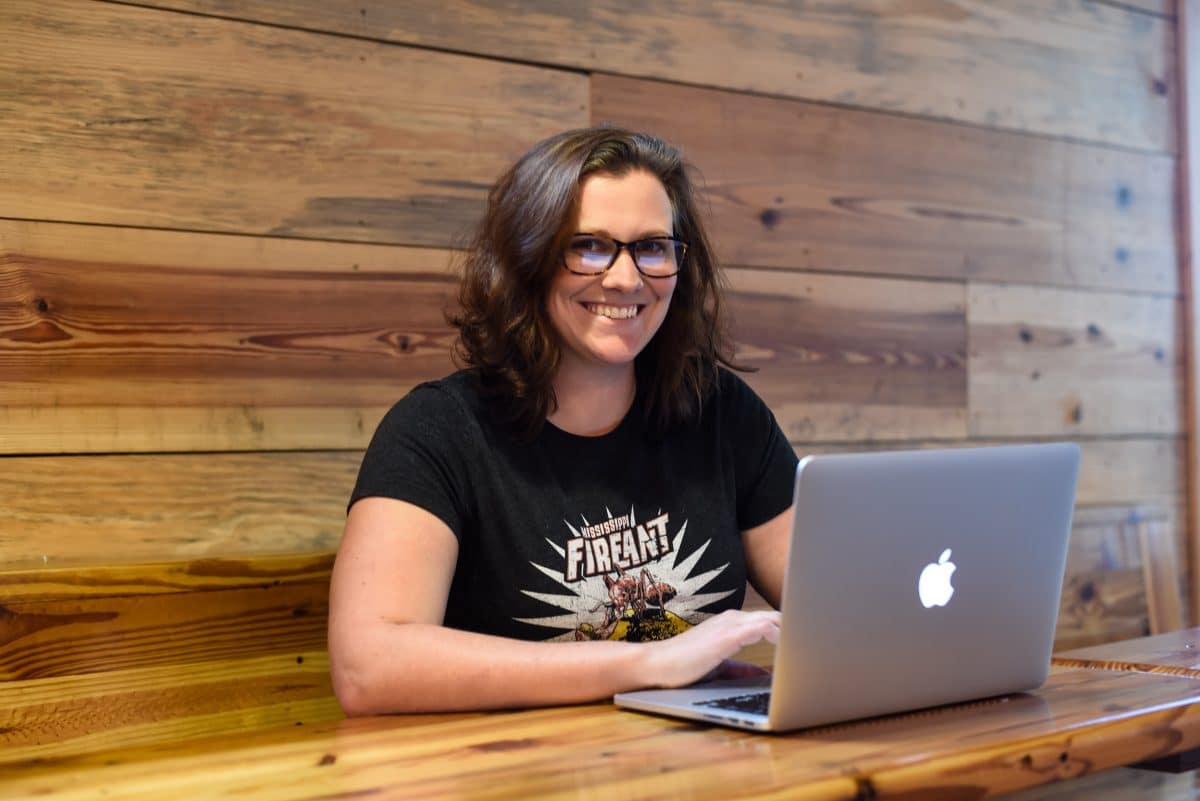 Women in Brewing: Emily Curry
Emily Curry is CEO of Southern Prohibition Brewing in Hattiesburg, Mississippi, having risen to the position from her initial job in sales.
Emily Curry's brewing career began after her husband sent her a retweet that Southern Prohibition Brewing was looking for an outside sales representative. "I sent in a fluffed-up resume and passionate cover letter, and was incredibly charming in my interview."
That was in 2013, four months before the brewery launched product. Now 30, she is the CEO.
The Meridian native, who holds a bachelor's in business from Mississippi State University, didn't have any prior brewery experience, other than selling beer at the now defunct City Bagel in Starkville.
Being a woman brewer doesn't present the challenges it used to, she says, as women are increasingly finding careers in the field in management, production, sales, human resources, and marketing. "I think my age was more of, 'Oh, she can't handle this' than my gender when I started out."
Legal challenges have been more plentiful. As a new employee to the industry, she says she didn't realize the depth of lobbying and meetings required to even be able to make and sell beer in Mississippi. She credits Leslie Henderson, general manager of Lazy Magnolia, with paving the way for other breweries in the state. "She put a lot of time, energy, and money into being able to be a business.
"In my young, post-college, millennial mind, if you had an idea, you could do it with the snap of the finger, hard work, and money that I didn't have or know how to get my snapping fingers on."
Curry says what she didn't have in experience, she has made up for in adaptability, a willingness to make mistakes, humility when she can muster it, and crying in company meetings. She says that every employee of Southern, present and former, taught her to be a better leader, particularly owner Quinby Chunn. "His willingness to let inexperienced people grow and lead in a company he's invested so much in is rare to find. He lets me learn my own lessons, and gives me guidance when asked."
Had she to do it all over again, there are a few things Curry would have done differently. She'd focus less on the five-year plan, and more on who was by her side making the plans happen. "You can't do everything yourself, and there are plenty of people who want to do it with you if your attitude is right and you say 'thank you.'"
Curry's advice to aspiring CEOs is to be ready to work mentally and physically, be adaptable, humble, and transparent. She's learned it's critical to hire the right people and to be unafraid to have honest conversations.
"Make yourself a seat at the big table, and sit down in it because no one is going to hand you an opportunity," she advises. "If you're not being effective in a job, find someone who is, and give them the tools to succeed."
Monitoring Your Trademarks
Posted on: 09/01/2021
We have assisted hundreds of clients in navigating the nuances of federal and state trademark registration and protection. One of the most common misunderstandings about trademarks is a registrant's obligations after they have registered a trademark with the United States Patent and Trademark Office.