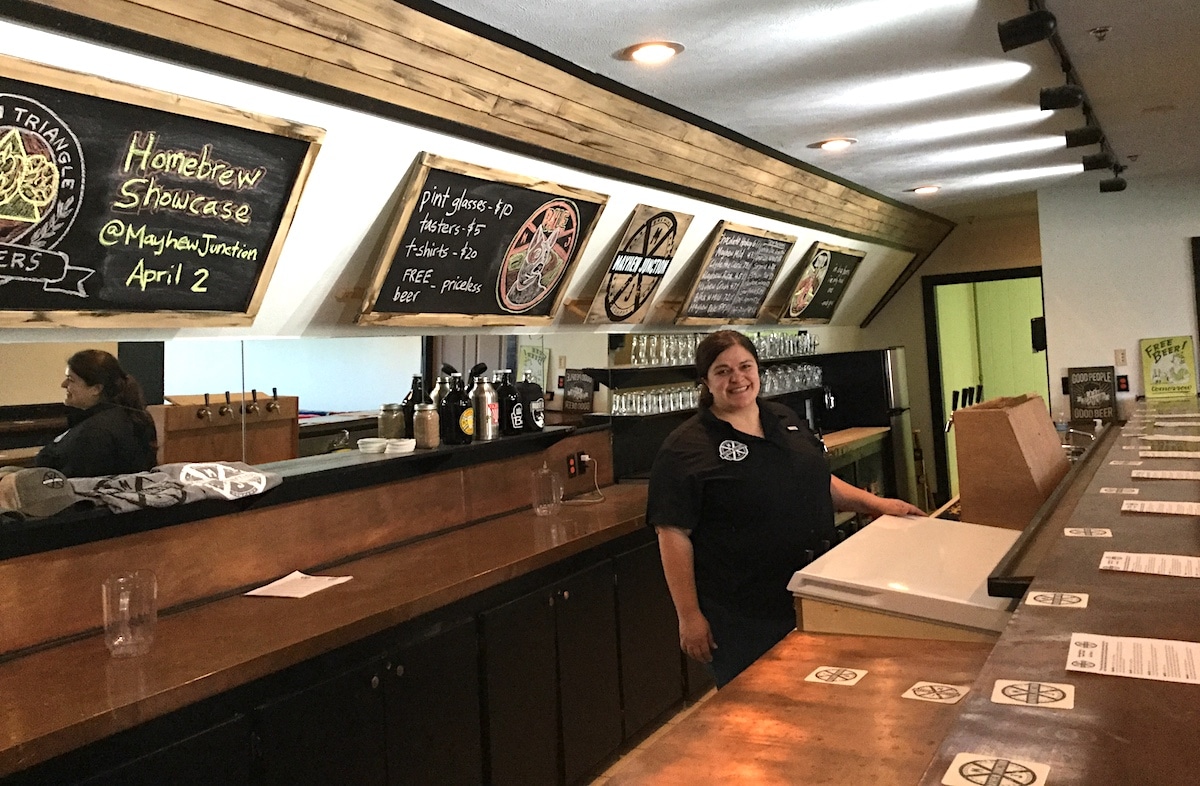 Women in Brewing: Jean Irby
Jean Irby is co-founder and brewer at Mayhew Junction in Starkville, Mississippi. An engineer by trade, Irby is used to being the only woman in the room. So the novel idea of running a company in a male-dominated industry wasn't something that really posed a challenge.
But there have been obstacles, she says. The Starkville native, who founded Mayhew Junction with her husband Derek in 2015, is most frustrated with Mississippi beer laws, which changed again a few years ago to allow breweries to sell limited quantities of beer and light wine on site.
"For a small brewery like us, 10 percent of production is nothing," she explains. "So we're not able to offer pints and things like that."
While some other breweries in the state have transitioned into brewpubs because of the laws, that's not Mayhew's model.
"We want to send beer out to local restaurants and support the things that those places are doing," the brewer says. "And occasionally be open for you to swing by the source for the conversations and community that we offer. It's a little sad for me when I go to local breweries in other states and other countries and see the things that they are able to do. I think Mississippi has taken steps in the right direction, but I am hopeful for future progress, too."
The Irbys didn't set out to be brewers. As lovers of travel and home brewing, they would always look for the local brewery to get a sense of a town's vibe while talking with locals. After traveling the globe, to breweries large and small, they returned to Starkville, where she realized her hometown needed a brewery.
About a year-and-a-half later, they opened Mayhew Junction, so named for a community between Mississippi State University and the Mississippi University for Women, with their own savings. She credits a solid business plan, and staying true to that plan, to the brewery's success. When they were first getting started, other Mississippi breweries offered advice. Crooked Letter Brewing Company, Natchez Brewing Company, and Lucky Town Brewing Company were especially helpful, she says.
Had she to do it all over again, Irby, who earned a B.S. and M.S. in computer engineering from Mississippi State University and a Ph.D. in engineering education from Virginia Tech, would have learned more early on about intellectual property and branding. "We've had some bumps," she admits. "But they've all been learning experiences."
In addition to founding Mayhew Junction together, the Irbys are both brewers, each focused on creating what they like. While Jean Irby is the mind behind the ambers, blondes, and fruit-infused beers, Derek Irby creates the stouts and most of the pale ales. As she explains, one takes the lead on a recipe, while the other is the primary critic. Playing to their strengths has been good for business, as she handles most of the talking and logistics.
"Folks are sometimes surprised to hear me talk about brewing on the tours. As in, they didn't realize I brew, too."
Monitoring Your Trademarks
Posted on: 09/01/2021
We have assisted hundreds of clients in navigating the nuances of federal and state trademark registration and protection. One of the most common misunderstandings about trademarks is a registrant's obligations after they have registered a trademark with the United States Patent and Trademark Office.