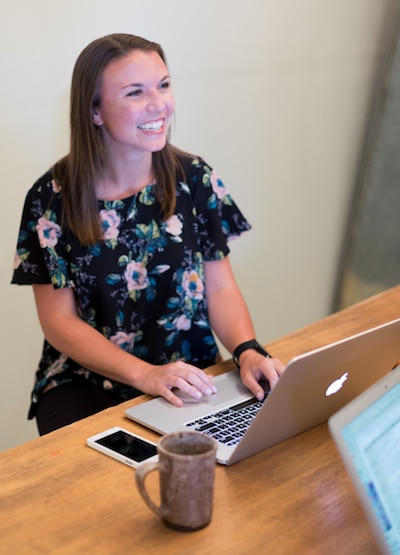 Emily Moore's Tips for Small Business Social Media Marketing
Emily Moore started her career in the news business, working as a morning live reporter for WAPT News in Jackson, Miss. After a while, she decided the hours (she was up at 3 a.m. each workday) and the constant stream of bad-news stories was wearing on her, so she wanted to make a change. 
In Fall 2015, she bought a video camera and began helping businesses and non-profits tell their stories. For about two years, Emily shot and edited videos as a side-hustle until early 2017, when she was able to go full-time with her business. As she started branching out into social media management for clients, she also brought on her first employee, and Moore Media Group was a growing small business in its own right.

Emily Moore is the founder and owner of the Moore Media Group.
Moore Media Group recently created a video (with more on the way) for McLaughlin, PC, and helps us with social media marketing.
We asked her to share some tips with our readers that can help you improve social media marketing for your business.
Find the "heart" in your story. Emily says that there's often a compelling story to be told by small business founders and owners, and that story can be an essential part of the marketing message. That's particularly true for "passion project" businesses such as craft brewers and craft food businesses. Too often, founders bury their story on the About page of their website, when it really should inform a lot of their marketing. Put your heart front and center in videos, social media, and other materials.
Create conversations in social media. Emily emphasizes that social media marketing is about quality, not quantity. You want posts that start conversations with your customers or clients, getting them to make their brand a part of their lives. Emily says they do this using videos and photos that communicate the "feel" of the business. When potential customers interact with you, that builds the relationship.
Post professionally, and use Stories for more casual interaction. Emily believes in professional photography and video, especially for feeds and posts that will hang around for a while. But Instagram and Facebook Stories that disappear in 24 hours, she says, give you a chance to grab your phone and say something directly to your customers. "Customers like 'behind the scenes' stuff -- stories about the people who work at your business," Emily said. "When they see your faces, they'll want to do business with you."
Figure out where your customers are hanging out. Think about your ideal customer and where he or she is—don't just assume Facebook is "fine" because "everybody is there." Working with a professional can help you think through your demographics and figure out your ideal client, and how best to reach them.
If you pay for ads or boosts, then target them carefully. Emily says this is her biggest tip for paid digital advertising is to target your ads. "Don't just throw money out there. Be very specific," she said, referencing that ideal customer. "I would sit down and say 'Who is that one person and the traits of that person' and then target that person with your ads."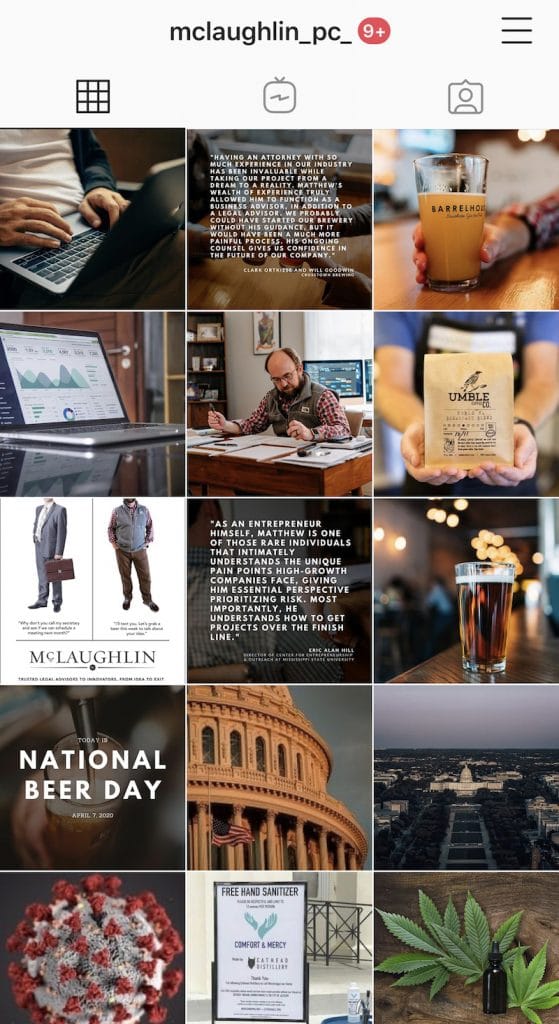 Emily says a curated social feed is good, but you can use Stories to create a more casual and personal connection.
Emily points out that social media is always changing, and she knows it can be overwhelming for business owners with so much on their plates already. 
"Focus on who you want to reach, where they are, and what's the best way to reach them," she said. "The trick is to take something big, simplify it, and then get creative."
Emily Moore is the founder and owner of the Moore Media Group, based in Jackson, Mississippi.
Where Things Stand One Month After Supreme Court Ruled and Overturned Initiative 65
Posted on: 06/14/2021
Where things stand one month after Supreme Court ruled and overturned Initiative 65
McLaughlin, PC's Efforts Lead to Reauthorization of Mississippi Historic Tax Credit
Posted on: 06/29/2020
With the passage of HB 1729, Mississippi will continue to have a robust historic tax credit program, which will hopefully help with economic recovery in this difficult time.