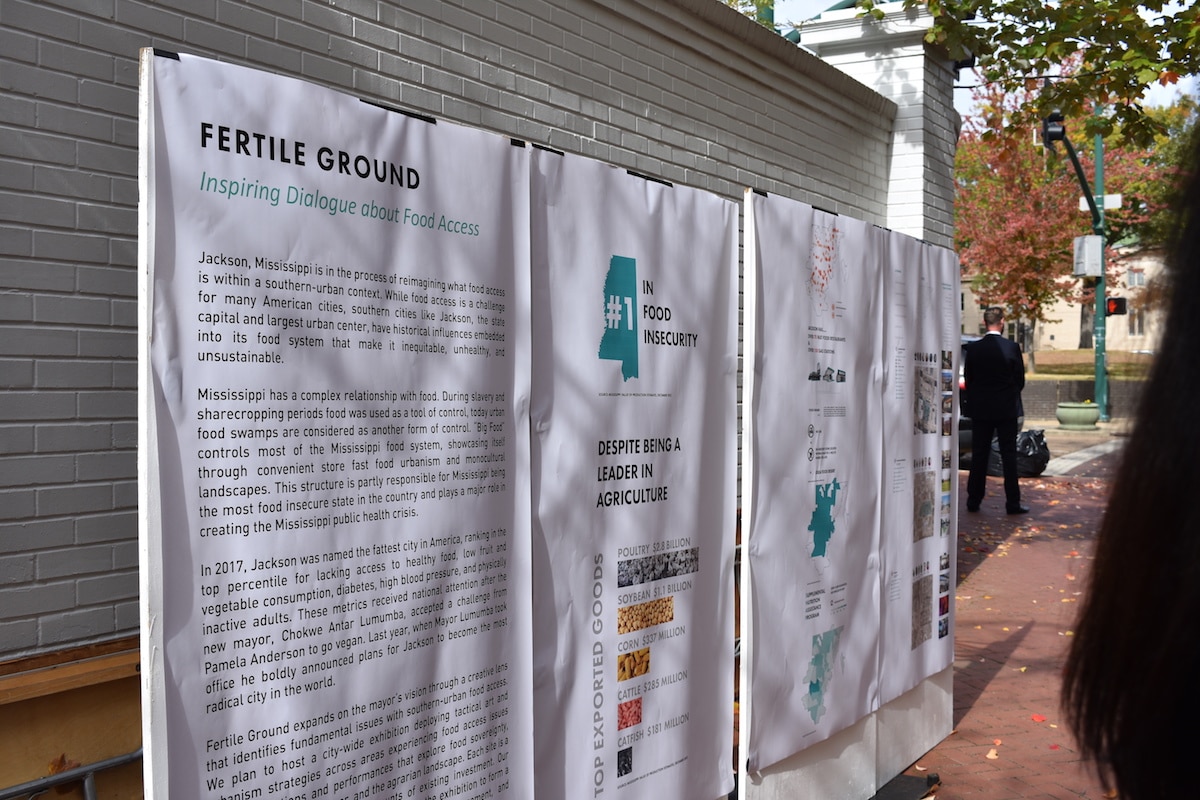 Plowing 'Fertile Ground' to Improve Food Access in Jackson and Mississippi
The theme "Fertile Ground" has run from Jackson's first TEDx conference through to a major grant from Bloomberg Philanthropies to a long-term planning project of the City of Jackson. And the idea that the ground is fertile in Jackson and Mississippi—for change and for growth—is a powerful metaphor.
It's no secret Mississippi has the reputation of being last in many things. We are 50th place in healthcare, 46th in education, and 45th in fiscal stability. In 2017, Jackson was named the fattest city in America, despite our state being a national leader in agriculture.
Inaccessibility to fresh foods and over-accessibility to fast foods has helped to contribute to the health crisis many Mississippians are facing. The simple act of grocery shopping has proven difficult in many areas known as "food swamps." Food swamps are often located in under-resourced areas. Instead of healthy options, these areas are "swamped" with severely unhealthy, over-processed, lower-nutrient foods. Fast food is easily found, as is food that is prepackaged and can be bought at the nearby gas station.
To put it into perspective, the city of Jackson (population: ~170,000) has 70 fast-food restaurants and over 150 gas stations.
So, what is the answer?
November 6, 2014, was a special day for the city of Jackson and the state of Mississippi. For those able to attend, the Capri Theater in Fondren played host to a truly inspiring event, an event that would not have come to fruition but for the vision of an immensely talented organizing team lead by David Pharr and Tim Mask. The event I am referring to was TEDx Jackson, with the 2014 event appropriated named "Fertile Ground."
This was the first event of its kind in the city, and it has paved the way for additional innovation-themed events and organizations in the Jackson area.
Since that first TEDxJackson, the City of Jackson has taken the Fertile Ground theme and run with it. Leaders in the City of Jackson have acknowledged that it lacks control of the urban food system, which results in limited access to healthy food options.
Two people on the forefront of this project are Salam Rida and Travis Crabtree. In 2018, the two moved to Jackson from Detroit, Michigan. They chose Jackson for a variety of reasons, one being that Crabtree is originally from this area. Both felt that Jackson was the perfect testing ground for "establishing a creative urban-design practice focused on creating unique experiences coupled with environmental sustainability."
Rida and Crabtree work for the City of Jackson Planning Department in a new division called Long Range Planning (LRP). The two and others in LRP wrote a series of grant applications with plans for the awards to go to public space, mobility, and art. They entered the Bloomberg Public Art Challenge with a project aptly titled, "Fertile Ground: Inspiring Dialogue About Food Access."
The City was awarded this grant in the fall of 2018. The focus of this project will be on exploring "systematic and built-environment issues with Jackson's food system through art."
In the spring of 2020, the Ecoshed, which Rida and Crabtree are also heavily involved in, will be one of a series of sites to host art for the Bloomberg Philanthropies Public Art Challenge. The Ecoshed is an industrial building, built in 1962, that has been repurposed as a mixed-use incubator that supports a creative and green economy in Jackson.
Why are Jackson and Mississippi considered "fertile ground?"
This city and state have an opportunity to start over in terms of healthy behaviors regarding food.
Some say you must hit rock bottom before you can begin to improve a dire situation. This is true of Mississippi. We have been in last place for too long. No one is going to help us improve our city and state but us.
Thanks to that series of initiatives that have been named "Fertile Ground," and people who have chosen to take a stand, we have the tools necessary to begin improving our overall health by way of food.
The road from food insecurity to food security will be a long process. Changing behavior isn't something that happens overnight. However, I am more encouraged than ever that we are on the path to a better, healthier city and state.
Where Things Stand One Month After Supreme Court Ruled and Overturned Initiative 65
Posted on: 06/14/2021
Where things stand one month after Supreme Court ruled and overturned Initiative 65
McLaughlin, PC's Efforts Lead to Reauthorization of Mississippi Historic Tax Credit
Posted on: 06/29/2020
With the passage of HB 1729, Mississippi will continue to have a robust historic tax credit program, which will hopefully help with economic recovery in this difficult time.